"A laugh and a scream are very similar."
Rating: Amazing!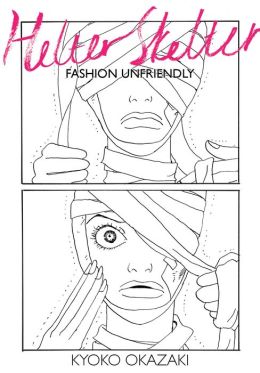 Look at the woman above. Something is just not quite right. And it isn't the smudged mascara under her eye (or is that a bruise?).
Kyoko Okazaki's Helter-Skelter follows Liliko, a beautiful, high-profile model who becomes jaded emotionally disturbed when faced with competition from a younger model and with the deterioration of her own body.
This is my second time reading this manga, and I love it even more. This manga expertly tells the story of Liliko's gradual descent into depression, apathy, and madness. To say the artwork is stunning would be inaccurate and reductive. The artwork can be unpolished, disgusting, terrifying, and erotic, embodying the manga's haunting opening sentence: "A laugh and a scream can sound the same." Kyoko Okazaki captures the shallow world in which Liliko lives, focusing in on celebrity culture and the pressure to be "beautiful," that is, slender and proportional. Pressures to be "beautiful" and popular are omnipresent in Helter-Skelter, in the end taking a toll on Liliko's mental and emotional stability and making her shallow, selfish, sadistic, sad, and lonely. Basically, an awful human being. But one must consider how everyone contributes to her deterioration. Those who built her - "Mama" who manages her career and her plastic surgeons who literally build her a new body - and those who consumed her image. The word "image" here is very important as everything Liliko presents to the world is fake - her face, body, and emotions. Apathy, jealousy, and weariness, gnaw at Liliko until she decides to simply "give the people what they want," becoming a vacant shell - all exterior, all meaningless. This manga is haunting.