In 2015, I read around 40 books. Here are my favorites, in no particular order: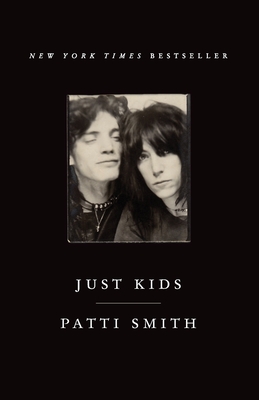 Just Kids by Patti Smith - Sometimes when you love something so much, it can be hard to describe that love. How can I articulate how phenomenal Just Kids is? In this book, Patti Smith eloquently describes her childhood, her long friendship with Robert Mapplethorpe, and their beginnings as artists in New York City. Her writing is fluid and has a distinctive, consistent voice, her own. What struck me was how Patti Smith describes everything in detail; she and Robert were so meticulous about the appearance of their material possessions and their outfits. I was also struck with their devotion to each other; no matter how poor they were, they stuck to each other and focused on their work. This is one of those rare books that made me slow down. I took my time with it; I savored it. I prolonged my reading just so that it wouldn't end as soon. How to describe this book? It is the poetry of friendship and art. Just Kids is my favorite book read in 2015, and one of my favorite books in general.
The Picture of Dorian Gray by Oscar Wilde - Everyone knows the basic story. It's a classic, and it is the most beautifully written book I have ever read. When I found out this is his only novel, it felt like a favorite tv series being canceled after one season. But I will be reading his other work.
Helter-Skelter by Kyoko Okazaki - As mentioned in my review of this manga, this was a re-read for me. Disturbing, erotic, and haunting, this manga chronicles the deterioration of model Liliko's mental and physical health.
Smoke Gets in Your Eyes by Caitlin Doughty - In this nonfiction work, Caitlin Doughty writes about her experiences working as a cremator and shares her insights on death. In 2014, I thought a lot about mortality, my own mainly, and this book reassured me that it was okay, and even right, to think about mortality and death. Even though these are serious topics, Caitlin Doughty makes them easily accessible and writes with levity. It's a "light" read that makes you think. I really enjoyed her discussion of her disappointment with society's and the death industry's treatment of bodies. Doughty points out that death is kept hidden in our society: corpses are treated with toxic chemicals and made up to look as living as possible. I also enjoyed her discussion on alternatives to traditional burial and have decided on one of them for my own future funeral. One's own mortality can be a very unsettling and overwhelming subject, but Doughty opens up the discussion easily and offers us her perspectives as someone who faces death in her everyday job.
Hyperbole and a Half by Allie Brosh - This is another book I have already reviewed. I fell in love with Allie Brosh's crude drawings and absurd humor. Hysterical and very self-aware.
The Structure of Scientific Revolutions by Thomas Kuhn - Out of all of the books I read in 2015, this book stressed me out the most. It is not "light" reading, and in fact, it can be very dry. This is one of the most famous books in science. Kuhn writes about the scientific revolutions that occurred throughout history, such as Newton's laws and Priestley's discovery of oxygen, and describes how they came about and the consequences of such revolutions. He also discusses how these consequences shape our understanding of science and its history. Here is an attempt at a brief summary of what he writes. He defines scientific revolutions as shifts in paradigms, which are unifying rules that govern scientific inquiry. For example, Newton's laws of reasoning unify all scientific fields because they provide rules how to conduct scientific inquiry; however, there are also paradigms in specific fields of science, such as Darwin's theory of evolution via natural selection in the field of biology. A shift in paradigm comes about because of the zeitgeist of the time. Kuhn demonstrates how a shift in paradigm can be very dramatic and research based on the previous paradigm must basically be thrown out. So, older scientists who have spent their life publishing research must quickly adapt to the new paradigm. (Although, my professor pointed out that a paradigm shift in today's world would probably be much less dramatic and involve integrating elements of the previous paradigm with the new paradigm). This disposal of "useless" research has shaped our understanding of the history of science. Kuhn writes that we are taught to think of scientific history as very linear, one discovery leading to another. As Kuhn illustrates, it is very dramatic, with new paradigms nullifying older paradigms. In school, we only learn about the discoveries that are still relevant. At the end of the essay, Kuhn compares science to Darwin's theory of evolution. In Darwin's theory, species adapt over time as a response to their environment; there is no "end goal," no perfect form they have set out to achieve. Kuhn states that this is similar to science: our inquiry is not necessarily leading us towards a final truth. This is one of the most upsetting and overwhelming statements I have ever read, and in fact, I got so upset, I started stress-eating and was four cookies in when I realized Kuhn is not necessarily right about this. (A thought which was confirmed by my professor). This book profoundly changed my understanding of science.